There are two basic types of radio systems: conventional systems and trunked systems.
Conventional radio systems
In a conventional radio system, each group of users is assigned one (for simplex systems) or two frequencies (for repeater systems). For example, the police in your area might operate on 460.500 MHz, the fire department on 154.445 MHz, the highway department on 37.900 MHz, etc. All transmissions from each group always go out on the on the same frequency--the police won't randomly switch to 500.000 MHz, for instance. Since each group always stays on the same frequency and frequencies never overlap, it's very easy to follow conversations on conventional systems: when your scanner stops on a frequency, you usually know who it is, and more importantly, you can stop on a channel and listen to an entire conversation. Up until the late 1980s, this was the primary way that radio systems operated. Some examples of conventional radio systems are
Aircraft
Amateur radio
FRS/GMRS users
Small, private radio systems
Trunked radio systems
Several major trends have converged that have resulted in agencies moving to more efficient
trunked
radio systems:
Higher levels of radio usage has meant that there arent enough individual frequencies available to allow every group to have their own frequency.
Technology advances have brought down the overall cost and complexity of implementing a trunked radio system while increasing the features available to the agency and individual radio users.
Roll-out of major statewide trunked systems makes it easier for even small agencies to piggy back onto the larger system for less cost than replacing existing systems.
Trunked system basics
There are three major elements common to most trunked systems:
System Controller
The system controller is a special computer that assigns voice channels to users as they key up their radio. The controller is the brains behind the trunking system.

Voice Frequency Pool
The voice frequency pool is a selection of radio frequencies available to the system controller for assigning voice traffic. By assigning voice frequencies to channels only as they are needed, a trunked system can support many more channels than it actually has frequencies.

Talk Group IDs
A Talk Group ID identifies which user or agency has been assigned a particular voice frequency at any particular moment. The Talk Group ID is essentially the user's "channel": since each voice frequency is used over and over by all the agencies on the system, trunked systems rely on the Talk Group ID to identify which particular user or agency is talking.

How a trunked system works
A typical communication on a trunked system goes something like this:
A user selects the channel they want to communicate on and presses the PTT button on the side of their radio.
This sends a channel request message to the controller that the user wants to start a transmission on the Talk Group ID (the channel) that they selected.
The controller locates an unused voice frequency and assigns it to that Talk Group ID.
The controller then sends out a channel grant message to all radios on the system so everyone knows where to find the voice channel for that Talk Group.
At this point, the original user's radio beeps, and the user can begin their transmission. While this sounds complicated, in real life this process takes about half a second (sometimes less).
When the user releases the PTT button, the controller releases the voice frequency from its Talk Group ID assignment, leaving the frequency free for the next user that becomes active.
A real life example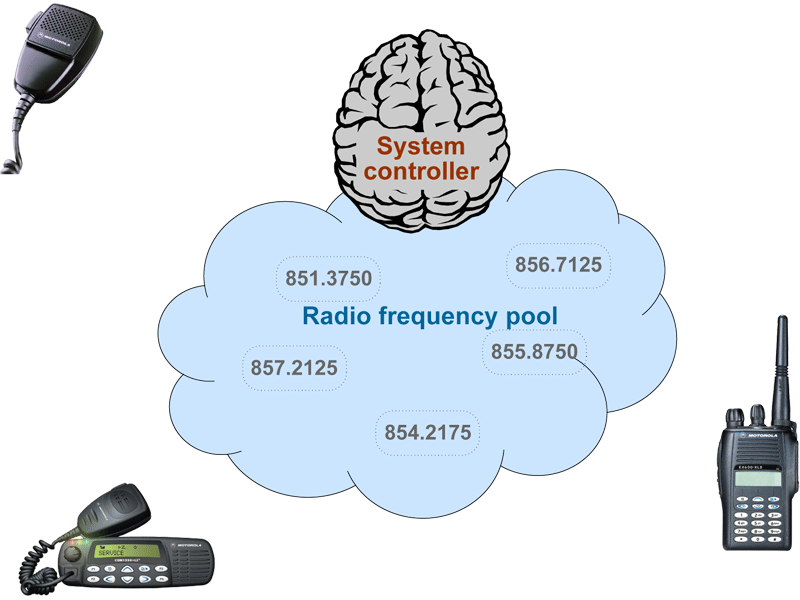 A typical 20-frequency trunked system can support hundreds of channels. For example, the Fort Worth system includes over 400 channels providing communication support for Fort Worth agencies (Police, Fire and Ambulance) and agencies in the surrounding cities of Kennedale, North Richland Hills, Forest Hill, Haltom City and Richland Hills. In addition, the same system also supports the Tarrant County Sheriff and Texas Christian University. (You can see its setup in the
RadioReference database
.) Before moving to the trunked system, the Police had only 6 channels (North, South, East, West, Information, and Tactical). Since moving to the trunked system, they are now able to provide 11 channels for North Side PD alone: a main dispatch channel, three talkaround channels, a supervisor channel, a bike patrol channel, and several community patrol channels. Other police districts have similar channel requirements, and now special operations teams such as SWAT, Narcotics, and Traffic each have one or more dedicated channels for their use as well.